China's 'Exploding' e-Commerce Market
China's e-commerce has grown by leaps and bounds over the past few years and A.T. Kearney's inaugural 2012 E-Commerce Index predicts continued 'explosive' growth going forward.  Taking account of 18 variables such as online market attractiveness and online infrastructure, China comes out on top on the list of 30 countries examined.    
Second only to the US, China's online retail market is now US$23 billion, expanding an amazing 78% a year since 2006.  A.T. Kearny expects the market to reach $81 billion over the next five years as the country improves its infrastructure and as online purchasing behaviour evolves and matures.  Among 513 million Internet users, some 164 million Chinese netizens shop online for the lowest prices, sales promotions, and free delivery mostly for consumer electronics, books, apparel, food and household supplies, beauty products, and 'tuangou' (group purchase) promotions.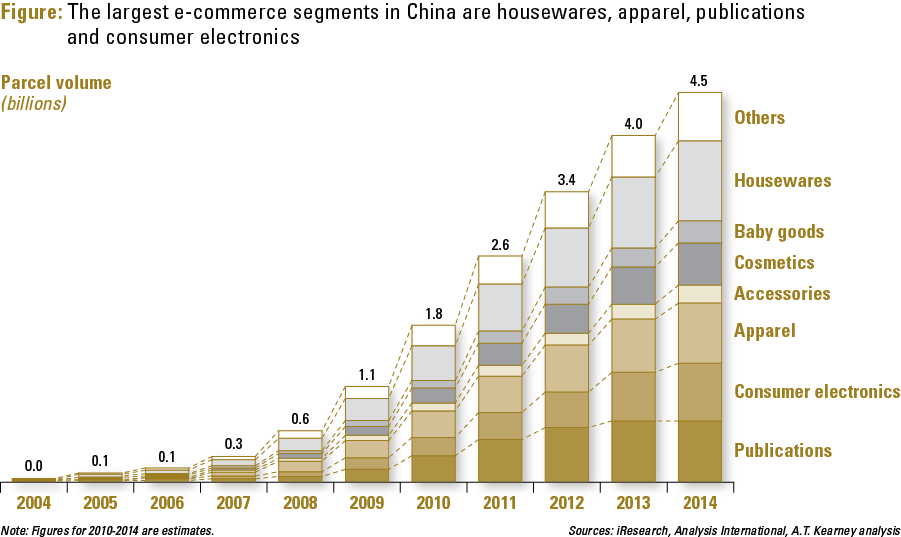 Chinese online retailers like Taobao, Paipai, 360Buy and others dominate the market but Amazon.cn which teamed up with a local retailer maintains certain market share.  In addition, dozens of 'tuangou' companies offer a myriad of special dining, merchandize, and travel and hotel deals that are extremely popular.   It's been so lucrative that international supermarket chains, namely, Carrefour, Tesco, and Wal-Mart have jumped in as have European and US apparel and luxury specialists like Zara, Net-A-Porter and even Neiman Marcus.
An earlier A.T. Kearney report spelt out China's e-commerce trends in more detail.  Consumer-to-consumer (C2C) currently dominates China's e-commerce market with 85% share in 2009. It is driven largely by hugely successful Taobao (China's leading eBay-like site) which accounts for more than 3 million transactions each day.  However, business-to-consumer (B2C) retailing is making a surge and is expected to grab 40% of the market by 2015.  This is partly because C2C consumers are switching to B2C sites for higher-quality goods and services and C2C sellers are themselves setting B2C stores.
Taobao transactions data show that e-commerce spending is currently concentrated in China's largest cities along the coast where Shanghai leads with $2.6 billion (2009-2010), 8.7% of the national total.  But, as purchasing power rises in inland cities, Taobao transactions are rapidly increasing in tier-2 and tier-3 cities.  Nationwide, in a couple years, per capita disposable incomes may nearly double that of 2008 and households earning more than $10,000 is forecast to reach 8% of all households by 2014. 
This graph shows online spending in ten top cities.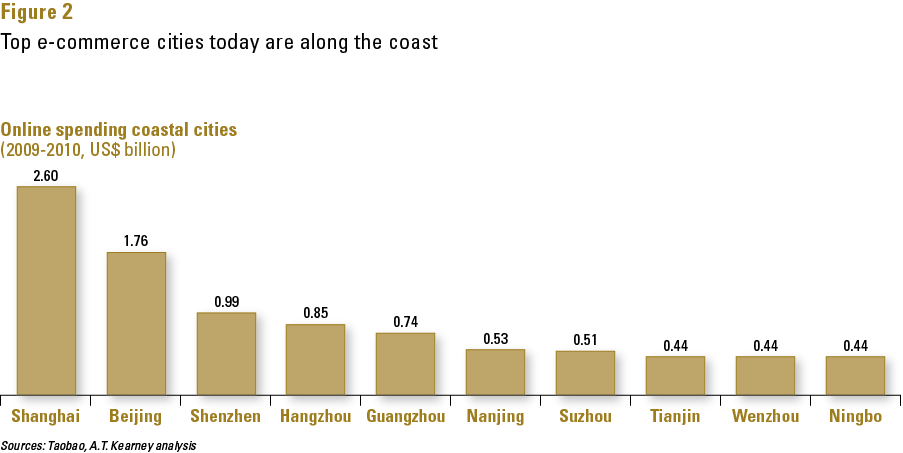 But, limited rural spending power and poor roads remain major impediments against much higher growth potential.  In comparison to the US's 77% (or higher) Internet penetration rate, China's is still only 34%.  In terms of e-commerce, large segments of the rural population, with far less purchasing power, is less inclined to go on the Internet to make purchases.  Often, buying from small local brick and mortar retailers can be cheaper than through the Internet, albeit product quality is less assured. 
Moreover, although China is busily building roads and laying track throughout its vast countryside, timely and quality delivery remains a problem for rural consumers.  In China's largest and provincial cities, online purchases are almost invariably delivered by the literally hundreds of local courier companies that offer services at much cheaper rates than international companies. Typically, a small parcel can be delivered within Greater Beijing for 10 to 15 RMB as fast as the next day. 
"China's infrastructure challenges hinder the realization of the country's full e-commerce potential.  Delivery infrastructure varies outside of [urban areas] and inhibits the efficiency and effectiveness of the 'last mile' of online retail product delivery", commented Mr Mike Moriarty, A.T. Kearney partner and report co-leader.
Among emerging e-commerce nations, Brazil is challenging China for top spot and Russia is an 'awakening online giant'.  Chile is Latin America's online 'gem' and Mexico is the region's next 'breakout star'.  The United Arab Emirates remains the 'gateway to the Middle East' while Malaysia may become Asia's next e-commerce champion.  The top ten is rounded out by Uruguay, Turkey and Oman.