'A Bite of China' Review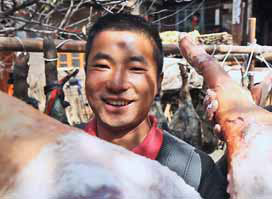 (A proud worker shows off a Yunnan Nuodeng Ham that has been aged for 3 years – China Daily photo) 
CCTV's smash hit documentary 'A Bite of China' has reawakened taste buds around the country for regional snacks and traditional foods.  On May 14th, when the series debuted on late-night TV, viewer ratings surged by 30%, knocking out big-name TV dramas with young people normally bored of central television actively tuning in. 
       A year in the making involving a team of 30 top film-makers, for the first time in its long documentary-making history, CCTV employed high-resolution cameras and avant-garde filming techniques to create stunning visual and audio effect. 
In the episode on traditional food preservation, director Zhang Minghuan took his entourage through nine cities in greater China from Heilongjiang province in the northeast where he filmed kimchi making to Tao O, Hong Kong, where he met one of the last salted prawn sauce craftswomen.  The series also provided poignant glimpses into the hard yet rich lives of workers, farmers and fishermen who harvested winter bamboo shoots, dug up lotus roots, raised mitten crabs, and dove for sea urchins, sea cucumbers, and abalone.    
The force of the series instantly rocked the webosphere where netizens looked high and low for any traditional foods mentioned on the program.  Folk delicacies like furry bean curd, stinky fish, black truffles, matsutake mushrooms, aged Yunnan Nuodeng and Zhejiang Jinhua ham, Dali cheese, and other taste delights became hot items on China's premier online shopping sites.  
The first five episodes drove over 5.84 million people to search on Taobao, resulting in 20 million+ hits on its food pages and racking up nearly 7.3 million deals.  Searches for Nuodeng ham, for instance, jumped 18 fold boosting sales by 80%.  In addition, sales of kitchen utensils such as steam pots and traditional ceramic pots spiked after the airing of an episode on steaming and stewing. 
       Riding on the back of the documentary and the ensuing shopping frenzy, Taobao launched its own 'A Bite of Taobao' promotion that raked in nearly 22 million RMB (US$3.47 million) on the first day.  Other sites like Sina and Baidu have also hopped on the bandwagon with copy-cat promotions.
       But, more important than the windfalls generated for e-commerce, the documentary has lead to an existential reflection on the country's modernization and how rapid industrialization and urbanization has impinged on traditional values, organic lifestyles, and more natural eating.  Viewers lament the rapid pace of change that has left traditional farming and local cuisine behind.    
In the second episode on staple grains, an elderly Ningbo couple of 'empty nesters' who made traditional rice cakes complained that their children have abandoned the craft for the city.  The last episode 'Our Country, Our Fields', featured a Beijing rooftop gardener who reaps a bountiful crop of organic vegetables for himself and his neighbours amidst the concrete sprawl.
The documentary has caused a rare resonance among viewers. Nostalgia for simpler times when foods were pure and grown on small plots is compounded by loathing of heightened pollution of China's lands and rivers, the heavy use of chemicals in industrialized agriculture, and the rash of tainted food scandals over the past few years.  Intentionally or not, 'A Bite of China' has engendered a renewed consciousness about environmental degradation and food safety that sends a loud message to the authorities.
Because the series has struck such a deep chord with viewers, making it one of the most popular documentaries ever produced by CCTV, Chen Xiaoqing, the series' leading director, said his crew will keep on filming for both home viewers and audiences abroad.  Another series with similar themes is already in the works. 
A trailer of the film was shown at the Cannes Festival in April and broadcast rights have been negotiated with 20 countries and regions including the US, Germany, Japan, and Korea.  In June, CCTV9, the foreign language channel, will start dubbing the series into English, Russian, and Arabic, depending on where the orders come from.